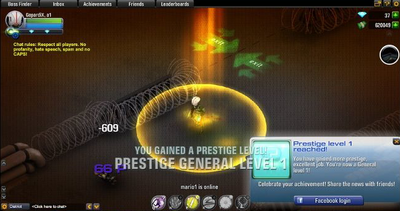 Prestige ranks are available once a character reaches Level 30. At this point, the character no longer receives level-up stat bonuses, and is no longer awarded XP. Instead, Prestige Points, are awarded, permitting the character to level up through the Prestige ranks. The Prestige points (or "P points") work the same way as XP does.
The Prestige ranks each have 30 levels to them, (with the exception of General, which only has one). The ranks are:
Corporal
Sergeant
Master Sergeant
Second Lieutenant
Lieutenant
Captain
Major
Colonel
Brigadier General
General
Currently, Gunshine's highest ranked player is Gepardix, who was made a forum and in-game moderator, and also has an in-game "party item" named after him, the GepX tinfoil stetson hat.
Other players now join him in the rank of General 1.
Ad blocker interference detected!
Wikia is a free-to-use site that makes money from advertising. We have a modified experience for viewers using ad blockers

Wikia is not accessible if you've made further modifications. Remove the custom ad blocker rule(s) and the page will load as expected.