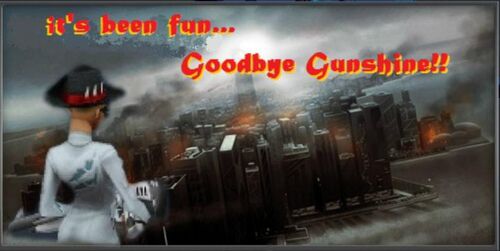 The End of Gunshine
Edit
All good things must come to an end, and this game was no exception to the rule.   Despite being the favorite game of many players, there were problems which forced the doors to close.  While some members seemed accepting of it's fate, there are others which haven't quite been able to let go yet.  This page is for them, those that still look for the Gunshine link on their FaceBook pages.
Parting Thoughts
Edit
A lot of members wanted to say a word or two in what could best be described as a Eulogy for what had become their favorite game. A Parting Thoughts page has been added to give their thoughts a voice.
Gunshine Advertisement Trailers
Edit
Trailers made for the game, be sure to also look at some of the Player-made Videos from different stages of the game, and boss runs.
FaceBook Gunshine Groups
Edit
Some of these groups are still as large as they ever were, and some have reduced in size. The hope is that members will find games to take over the void where Gunshine once was, and keep in touch with each other. Gunshine Elites Gunshine gone Wings of Destiny and friends Zombies Members Zombie Online Rocks Zombie Killers L.R.C. Labycore Resistance GUNSHINE: In Memorium Gunshine is gone, but we are still friends Gunshine.net L.R.C !!BooYah!!
FaceBook Community Pages
Edit
I Love you Zombies Online Open Gunshine Again Zombies online V.I.P. (Spanish)