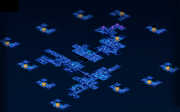 The surrounding islands are small areas with repeatable daily missions.
NOTE: Gunshine was in BETA status at the time this information was written. Please update the article and remove this notice once it reflects the current game.
An updated list of surrounding islands can be found Here
Idas (10)
Actor (12)
Castor (14)
Medea (16)
Heracles (18)
Theseus (20)
Oileus (22)
Zetes (24)
Idmon (26)
Leitus (28)
Philas (30)
The islands are named after Greek heroes
Ad blocker interference detected!
Wikia is a free-to-use site that makes money from advertising. We have a modified experience for viewers using ad blockers

Wikia is not accessible if you've made further modifications. Remove the custom ad blocker rule(s) and the page will load as expected.